Victoria Group at the Kopaonik Business Forum on the Serbian Agriculture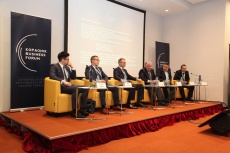 The 23rd Kopaonik Business Forum was held on Kopaonik Mountain from March 8 to 10. It gathered more than 800 businessmen and women from the country and the region, representatives of the Government of Serbia, economic analysts, and international experts. This year's gathering, dubbed "Catching up and convergence with leading trends: How to fix up the main fractures of the system", featured 20 panels on the current economic topics.
The panel devoted to agriculture, held on the second day of the Forum, saw the participation of Nikola Vujačić, Chief Operations Officer of Victoria Group. He pointed out that prior to accession into the EU, the Serbian agricultural producers will be facing immense challenges to adapt to the market conditions.
"Faced with a drop in prices of agricultural products worldwide, we need to seek niches where we can be competitive. It is unrealistic to expect the Serbian farmers to be competitive in a situation where the incentives are significantly higher in the neighboring countries. This problem is transferred to the processing industry which is in a disadvantaged position if the entire production chain is not competitive and sustainable. That is why the primary agricultural producers need to be competitive".
Mr. Vujačić pointed out that along with the systemic creation of conditions to raise competitiveness, it is important to stimulate the growth of export and its value through the export of processed agricultural products, making a reference to Victoria Group being one of the largest net exporters in Serbia. He added that agribusiness companies and exporters are greatly affected by not only the exchange rate between Euro and Serbian Dinar, but also that between Euro and Dollar.
The panel on agriculture also saw the participation of Danilo Golubović, State secretary at the Ministry of Agriculture, Forestry and Water Management; Miroslav Kiš, President of the Executive Board of the Association of Agricultural Producers; Đorđe Ljubojević, co-owner and Head of Sales at Sirogojno; Miladin Ševarlić, President of the Association of Agricultural Economics of Serbia; while the discussion was moderated by Saša Vitošević, CEO at Global Seed.
The Kopaonik Business Forum is organized by the Serbian Association of Economists and the Serbian Association of Corporate Directors, sponsored by the Prime Minister of Serbia.