Victoria Group among the biggest exporters in Serbia at the end of the year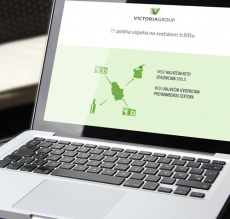 According to a report by the Ministry of Finance of the Republic of Serbia based on information collected by the Customs Administration, the export value of the 15 leading exporters in Serbia for 11 months of 2017 was EUR 3.8 billion.
Victoria Group was 14th on this list, with sales on the foreign market amounting to EUR 141.3 million between January and November 2017. When it comes to the company's regional export structure, sales on the EU market are dominant, with stable sales in the region, as well as an increase in sales outside of Europe. 
The list of the leading exporters from Serbia includes the following companies (according to their export value): FCA Srbija, HBIS Group Serbia Iron&Steel, Tigar tyres, Naftna industrija Srbije, Tetra pak, Robert Bosh, HIP Petrohemija, Leoni, Hemofarm, RTB Bor, Grundfos, Jura Corporation, Gorenje, Victoria Group and Yugoimport SDPR.