About us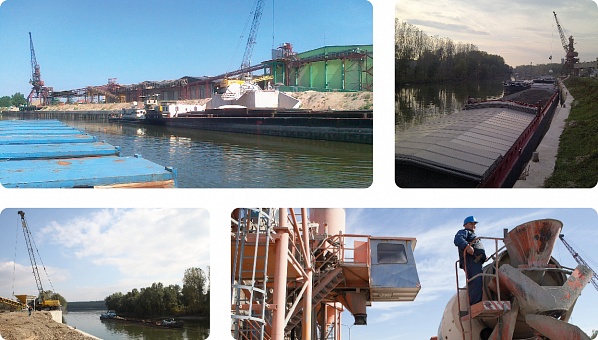 Port Bačka Palanka is located on the left bank of the river Danube, on the 1295th km of its course, in the agricultural area of South Bačka. It is characterized by an excellent strategic position thanks to the connection with Pan-European Corridor 7 (a river and canal system of the Rhine-Main-Danube Canal), which connects it with the countries from the North Sea to the Black Sea. The strategic position is contributed to by the immediate vicinity of the Novi Sad-Osijek-Sombor main road, closeness of the Belgrade-Subotica highway at a distance of 45km and the Belgrade-Zagreb highway, which is 30km away, as well as the railroad track which is just 5km from the port.
Port Bačka Palanka is involved in:
Providing port services:

- Nautical services: mooring and unfastening of vessels, piloting, manoeuvring, reception and handling of vessels at anchorage, supplying vessels and crew;

- Transport services: loading, unloading, reloading, transfer and stowage of cargo, storage, disposal and transport operations depending on the type of cargo, preparation and consolidation of cargo for transport;

Producing and selling construction material: gravel, sand and concrete.
The port uses 322 m of regulated operating coast, a gantry crane, mobile port crane, floating crane and port pusher. The depth of water in the port basin ranges from 3.93m to 8.86m. The average size of the vessels reloaded in the harbour is 90m in length, 11m in width, with a capacity of 1500t and freeboard of 2.5m.
The company has been operating as an independent company since 2002, and became a member of the Victoria Group in 2006. Thanks to the available capacities, the port is able to achieve a turnover of 500,000 tons per year of various types of cargo. Good business results of the Port Bačka Palanka come from continual investment, as evidenced by the recorded amount of transhipment of over 290,000 tons in 2012.