AgroPort logistics centre in Backa Palanka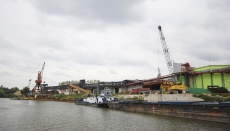 Two member companies of Victoria Group – Victoria Logistic and the Port of Bačka Palanka – have prepared a new service in a joint offer: the AgroPort logistics centre. This is a complete package of services that now includes in one place, in Bačka Palanka, warehousing, packaging and port services for commercial goods and chemical fertiliser. The AgroPort logistics centre is designed to improve the operations of partners, but also all agribusiness companies whose operational priorities are quality, safety and efficiency.
The AgroPort logistics centre has a storage capacity of 55 thousand tonnes for mercantile goods. Grain storage in a 25-tonne silo ensures the daily capacity to receive 1,500 tonnes. Users can also take advantage of quality grain treatment services in the form of cleaning, drying and fumigation, followed by separation of grain by quality, ensuring the quantitative and qualitative safety of grains, monitoring the temperature of grain 24/7 and sampling automatic vacuum probe. The daily drying capacity totals 600-700 tonnes, while the daily capacity of shipping is 2,000 tonnes.
One of the most important advantages is certainly its location at a distance of just five kilometres from the Port of Bačka Palanka. The warehouse in the port has a floor capacity of 30 thousand tonnes of grain and provides security in every respect, while on a daily basis it can receive three thousand tonnes and disptach two thousand. The Port of Bačka Palanka has the possibility of receiving grain from two barges simultaneously as well as loading two barges simultaneously, it has two available weighbridges and automatic filling of the warehouse using transport conveyor belts.
There is also complete infrastructure for the storage and conditional packaging of chemical fertiliser, while the AgroPort centre also ensures the complete procurement of the required packaging. The storage capacity of fertiliser is 50 thousand tonnes for bulk commodities, 30 thousand tonnes of finished palletised product in open runways and five thousand tonnes of finished palletised product in an enclosed area.
When it comes to packing, the daily capacity totals 450 tonnes, and it is possible to be done in PE sacks of 1 to 50 kilos and in BIG BAG sacks. After packing, customers can take advantage of the dispatch of chemical fertilisers up to a daily capacity of two thousand tonnes.
AgroPort logistics centre offers organised transportation to final destination addresses, as well as additional quality control services for chemical fertilisers and the possibility of checking all samples of mercantile goods in SP Laboratory, which is also a member of Victoria Group.
This package of services and system works on the turnkey principle that company Victoria Logistic will to promote during July among all its partners and potential customers. The AgroPort logistics centre in Bačka Palanka is based on the concept of offering in one place, under the shortest possible deadlines, the highest quality service with complete oversight of all processes, thereby saving its customers time and reducing their costs.